Digital Signage Products Pricing
Product Description
Full License
Upgrade License
Tycoon Controller 5 Single User Version
1454
701
Tycoon Network Standard Edition
Server 5 Unlimited Players
5821
1692
Server 5 (Maximum 5 Players)
3638
1194
Player 5 (required for each display)
1211
560
Tycoon Network Enterprise Edition
Server 5 Enterprise
8113
3649
Tycoon Manager 5
4122
1842
Tycoon Manager Web Edition (5 concurrent users)
7762
3498
Players 5
1211
560
Tycoon Controller
Tycoon Controller is the easiest digital signage application on the market.
Manage content then playback on a single PC
Tycoon Server Standard
Tycoon Server Standard Edition is a single-administrator solution capable of managing a network of up to 400 Players via private LAN or public internet.
Tycoon Server Enterprise
Tycoon Server Enterprise Edition supports multiple administrators and networks spanning thousands of Players.
Tycoon Player
TYCOON Player is the playback module that displays your content and communicates with TYCOON Server. It is a robust software Player designed to run 24/7.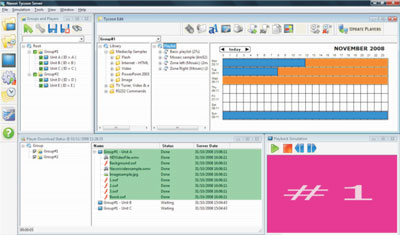 Network Configuration
Installation
Display Products
Mounting Products
On-Line Management
Support and Training