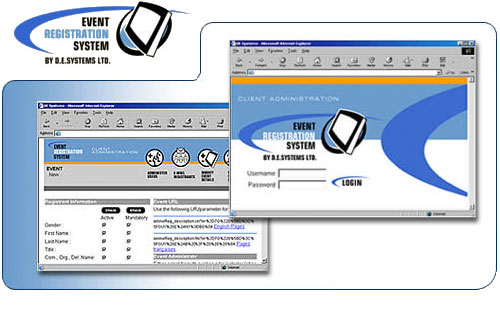 Online Event Registration System - ERS
D.E. Systems' Online Event Registration System (ERS) provides a comprehensive and integrated Internet based registration package for meetings and events. ERS is designed around web based application software, and is customizable to suit your data requirements. Features of ERS include: Online/Web based, platform independent, online participant self-registration, MYSQL database information storage, Administration Tools to manage, track, and query event activities and registrant data. ERS also offers optional access to secure online payment services to provide a single point of entry.
With affordable rental rates, ERS can provide you with a convenient, professional, web solution for online event registration without assuming the startup costs of Web design and maintenance. Leveraging ERS with ID Badge Printing* provides a powerful turnkey online event registration and participant identification solution.
ERS Key Features
Web based application

accessed via a browser over the Internet.

Design

and create online event registration forms that are immediately available.

Dynamic

interaction with the Event Database

Administrative

tools allow customized set up of new events, modify existing events, and/or add additional events. View data by potential participants, set up appropriate event fees, view data, generate reports while managing the information throughout the event cycle.

Export

feature utility enables the porting of all data into a common format easily imported into programs such as Access, Lotus 123 and Paradox.

E-Commerce

option with Credit Card Authorization feature.

Integrate

with ID Badge Printing System.

Affordable

, flexible short or long-term rental terms
Other Related Services
D.E. Systems Ltd. provides many services in addition to ERS. These include the rental of computer hardware such as Desktop and Laptop computers, Monochrome and color Laser Printers, Wireless and Wired Networking Services, and ID Badge Printing, to name a few.
More about ID Badge Printing System*
ID Badge Printing System is a solution utilizing Datacard® ID Works® Enterprise Edition software. Datacard® ID Works® Enterprise Edition identification software allows for varying levels of security from simple "name tags", to picture ID or to the incorporation of sophisticated of biometric and smart card-based programs. This advanced package includes everything needed to design and produce identification cards and reports. The ID Badge Printing System offers a flexible solution to your event's attendee and staff identification.
The Datacard® Solution includes hardware to produce ID Cards, and comes complete with an Integrated USB Digital Camera, Software and Magna™ Class card printers with Advanced Imaging Technology™.
Get more information about our Event Registration System